C50S Ultra-high pressure pump system
S Series Electric Servo High Pressure Pump System - Energy Saving and Efficient
C50S Ultra-high pressure pump system
---
Inquiry
S Series Electric Servo High Pressure Pump System - Energy Saving and Efficient
Performance and Features:
1. The servo motor and constant flow gear pump is combined to serve as the power unit of the system. The electric signal fed back by the pressure sensor can accurately control the motor speed in real time to control the hydraulic flow and pressure. The pressure fluctuation is small (< 5%), so that the cutting quality of the workpiece can be significantly improved.
2. The system has two-stage pressure setting function, with the pressure to be set at 10~400MPa, increasing the application of cutting materials;
3. The system precisely controls the hydraulic flow of the system. The hydraulic overflow is small and the calorific value is low. The cooling water requirement is lower than other types of systems, and the service life of hydraulic components is also prolonged.
4. After the cutting head is closed, the system maintains the cutting pressure state, and the motor is in a static state after deceleration, reducing the electric power consumption. The power consumption is lower than the constant pressure pump system by more than 20%, and the energy efficiency is high.
5. The setting operation of the system can be realized by a touch screen. All the warning and detection statuses are displayed on the touch screen in real time.
Technical parameter
| | | |
| --- | --- | --- |
| Product model | C50S | C60S |
| System power | 42KW | 52KW |
| Maximum flow | 3.7L/min | 4.5L/min |
| Supercharger type | G7A | G11 |
| High pressure accumulator capacity | 1L | 1L |
| Maximum aperture of a single jet | 0.33mm | 0.4mm |
| Maximum working pressure | 400Mpa | 400Mpa |
| Pressure fluctuation | ≤5% | ≤5% |
| Noise | ≤85db | ≤85db |
| Overall dimension | 2002x 1500x 1452mm | 2002x 1500x 1452mm |
Product details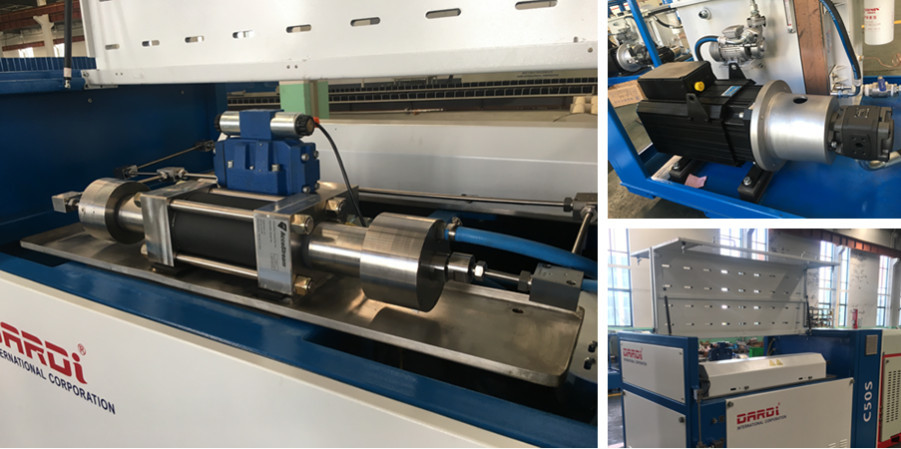 ONLINE FEEDBACK
---